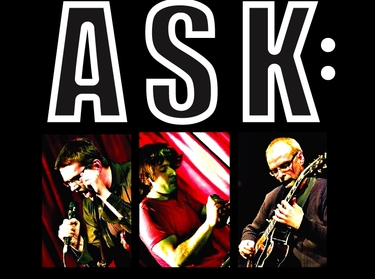 ASK:
(members: Andres Noormets (voice/text), Mart Soo (guitar, live electronics), Taavi Kerikmäe (keyboards, termen-vox, live electronics))
is a group engaged in free improvisation, combining music with text.
The concept of the trio is known to be unique: we perform music which originates solely from our public's wishes. Listeners can provide headlines, topics and key words which the trio then makes alive through improvisation. This way the immediate and playful form of communication is born, being kind of a social experiment integrating partnership, interpretation and fulfilling wishes.
Beside giving concerts the trio leads their own live broadcasting The Fantasy Request Show, which airs on the Klassikaraadio (Radio Classic) of the Estonian Public Broadcasting. In this live show ASK: is answering to listeners' phone calls and interprets these calls in their live improvisations.
Trio ASK: has released their first album in april 2009 on which the best moments of this radio broadcasting have been recorded. The weekly "Eesti Ekspress" awarded it "The album of the week".